Coronavirus : Le DLC The Delicious Last Course de Cuphead repoussé à 2021
News jeu Coronavirus : Le DLC The Delicious Last Course de Cuphead repoussé à 2021 Attendu d'ici la fin de l'année, le DLC de Cuphead baptisé The Delicious Last Course ne verra finalement pas le jour en raison des difficultés rencontrées par l'équipe durant la pandémie de Covid-19. Chad & Jared Moldenhauser du Studio MDRH annoncent via Twitter avoir pris la décision de reporter la sortie du DLC The Delicious Last Course de Cuphead en 2021. Cela fait suite à des difficultés rencontrées à cause du virus, et à la volonté de proposer un contenu à la hauteur des ambitions du studio : In the wake of the ongoing global pandemic affecting so many, we have made the difficult decision to push back the release of The Delicious Last Course. For our wonderful Cuphead community, we've prepared a letter from Studio MDHR founders Chad & Jared Moldenhauer to share more. pic.twitter.com/XiU57Wcn1y — Studio MDHR (@StudioMDHR) November 25, 2020 Alors que The Delicious Last Course est la suite des aventures de Cuphead et de Mugman, c'est également la fin de l'histoire débutée au Devil's Casino un jour fatidique. Dans le style du Studio MDHR, nous ne voulons rien faire d'autre de ce chapitre final que notre meilleur travail. Durant le développement, nous nous sommes motivés à utiliser tout ce que nous avons appris de la création de Cuphead pour augmenter la qualité de The Delicious Last Course en termes d'animation, de design et de musique. Atteindre ce standard de qualité a été extrêmement éprouvant pour nous, surtout pendant que cette pandémie mondiale touchait nos collègues développeurs. Plutôt que de compromettre notre vision en réponse au Covid, nous avons pris la difficile décision de reporter la sortie (du DLC) jusqu'au moment où nous sentirons qu'il plaira aux joueurs de la manière dont il doit le faire. Nous savons que beaucoup d'entre vous attendent de retourner sur les Iles Inkwell, et notre but est de faire de ce nouveau voyage là-bas un moment magique l'année prochaine. Par MalloDelic, Journaliste jeuxvideo.com MP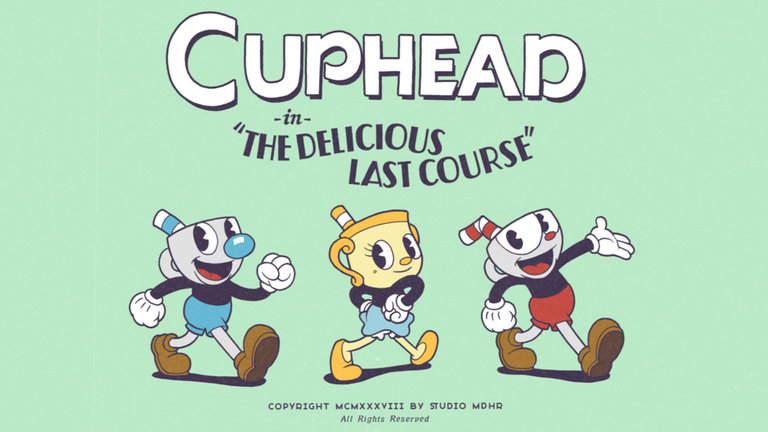 News jeu Coronavirus : Le DLC The Delicious Last Course de Cuphead repoussé à 2021
Attendu d'ici la fin de l'année, le DLC de Cuphead baptisé The Delicious Last Course ne verra finalement pas le jour en raison des difficultés rencontrées par l'équipe durant la pandémie de Covid-19.
Chad & Jared Moldenhauser du Studio MDRH annoncent via Twitter avoir pris la décision de reporter la sortie du DLC The Delicious Last Course de Cuphead en 2021. Cela fait suite à des difficultés rencontrées à cause du virus, et à la volonté de proposer un contenu à la hauteur des ambitions du studio :
In the wake of the ongoing global pandemic affecting so many, we have made the difficult decision to push back the release of The Delicious Last Course. For our wonderful Cuphead community, we've prepared a letter from Studio MDHR founders Chad & Jared Moldenhauer to share more. pic.twitter.com/XiU57Wcn1y

— Studio MDHR (@StudioMDHR) November 25, 2020
Alors que The Delicious Last Course est la suite des aventures de Cuphead et de Mugman, c'est également la fin de l'histoire débutée au Devil's Casino un jour fatidique. Dans le style du Studio MDHR, nous ne voulons rien faire d'autre de ce chapitre final que notre meilleur travail. Durant le développement, nous nous sommes motivés à utiliser tout ce que nous avons appris de la création de Cuphead pour augmenter la qualité de The Delicious Last Course en termes d'animation, de design et de musique.

Atteindre ce standard de qualité a été extrêmement éprouvant pour nous, surtout pendant que cette pandémie mondiale touchait nos collègues développeurs. Plutôt que de compromettre notre vision en réponse au Covid, nous avons pris la difficile décision de reporter la sortie (du DLC) jusqu'au moment où nous sentirons qu'il plaira aux joueurs de la manière dont il doit le faire. Nous savons que beaucoup d'entre vous attendent de retourner sur les Iles Inkwell, et notre but est de faire de ce nouveau voyage là-bas un moment magique l'année prochaine.
Par
MalloDelic
, Journaliste jeuxvideo.com
MP