Edge of Eternity date sa sortie et s'annonce sur PS5 / Xbox Series
News jeu Edge of Eternity date sa sortie et s'annonce sur PS5 / Xbox Series Publié le 07/04/2021 à 20:40 Partager : Deux ans après son arrivée en accès anticipé, le JRPG Edge of Eternity officialise aujourd'hui la date de sortie de sa version 1.0. Mais ce n'est pas tout, puisque Dear Villagers et Midgar Studio annoncent l'arrivée du titre sur la nouvelle génération. Disposant d'avis très positifs sur Steam, Edge of Eternity sortira le 8 juin prochain sur PC. A cette occasion, le titre recevra une grosse mise à jour, qui ajoutera près de 20h de gameplay et qui permettra d'enfin connaître la fin de l'histoire. Le titre a déjà été annoncé sur PS4, Xbox One et Game Pass, mais nous apprenons aujourd'hui que des versions PS5 et Xbox Series sont également attendues. L'éditeur nous informe que les versions console devraient être disponibles au cours du quatrième trimestre, sans plus de précision pour le moment. Nous avons mis tout notre cœur dans la réalisation d'Edge Of Eternity. C'est une histoire de batailles existentielles épiques et de drames personnels intimes. J'ai hâte de le montrer au monde entier, indique Jérémy Zeler, fondateur de Midgar Studio. De son côté, Guillaume Jamet, VP Publishing pour Dear Villagers, ajoute : Edge of Eternity est la parfaite illustration de ce que l'on veut faire avec Dear Villagers : découvrir et accompagner des studios talentueux, construire et s'inscrire ensemble dans des projets ambitieux. Ce qu'a accompli Midgar, avec une petite équipe, est assez incroyable et nous sommes très fiers d'être à leurs côtés pour ce lancement. Pour rappel, les musiques sont composées par Yasunori Mitsuda, à qui l'on doit la musique du mythique Chrono Trigger, paru en 1995 sur Super NES. Par MalloDelic, Journaliste jeuxvideo.com MP
News jeu Edge of Eternity date sa sortie et s'annonce sur PS5 / Xbox Series
Deux ans après son arrivée en accès anticipé, le JRPG Edge of Eternity officialise aujourd'hui la date de sortie de sa version 1.0. Mais ce n'est pas tout, puisque Dear Villagers et Midgar Studio annoncent l'arrivée du titre sur la nouvelle génération.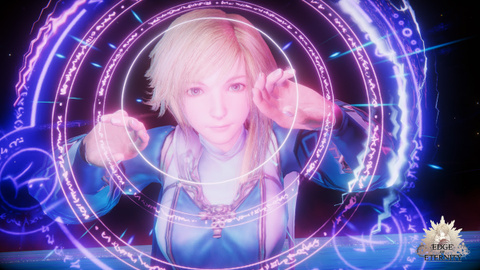 Disposant d'avis très positifs sur Steam, Edge of Eternity sortira le 8 juin prochain sur PC. A cette occasion, le titre recevra une grosse mise à jour, qui ajoutera près de 20h de gameplay et qui permettra d'enfin connaître la fin de l'histoire. Le titre a déjà été annoncé sur PS4, Xbox One et Game Pass, mais nous apprenons aujourd'hui que des versions PS5 et Xbox Series sont également attendues. L'éditeur nous informe que les versions console devraient être disponibles au cours du quatrième trimestre, sans plus de précision pour le moment.
Nous avons mis tout notre cœur dans la réalisation d'Edge Of Eternity. C'est une histoire de batailles existentielles épiques et de drames personnels intimes. J'ai hâte de le montrer au monde entier, indique Jérémy Zeler, fondateur de Midgar Studio.
De son côté, Guillaume Jamet, VP Publishing pour Dear Villagers, ajoute :
Edge of Eternity est la parfaite illustration de ce que l'on veut faire avec Dear Villagers : découvrir et accompagner des studios talentueux, construire et s'inscrire ensemble dans des projets ambitieux. Ce qu'a accompli Midgar, avec une petite équipe, est assez incroyable et nous sommes très fiers d'être à leurs côtés pour ce lancement.
Pour rappel, les musiques sont composées par Yasunori Mitsuda, à qui l'on doit la musique du mythique Chrono Trigger, paru en 1995 sur Super NES.
Par
MalloDelic
, Journaliste jeuxvideo.com
MP