Explained: The Assam snake that was lost and subsequently found 129 years later
Written by Tora Agarwala , Edited by Explained Desk | Guwahati | Published: June 30, 2020 5:24:22 pm The species is small — about 60 cm long, brownish, with a patterned belly. (Source: Dhritiman Mukherjee) More than a century after it was first...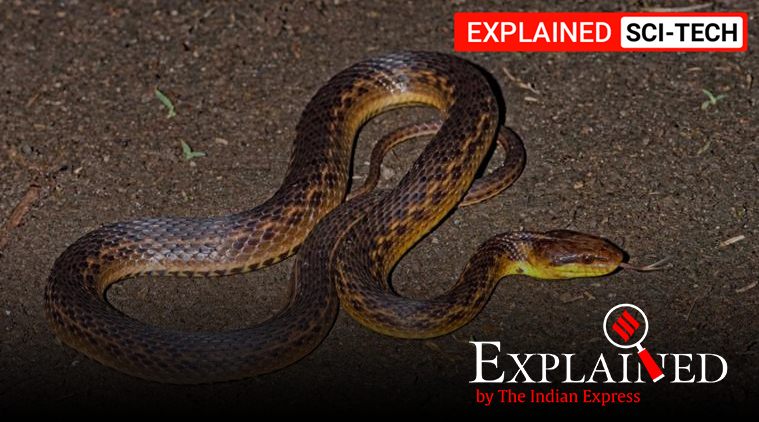 Written by
Tora Agarwala
, Edited by Explained Desk | Guwahati |
Published: June 30, 2020 5:24:22 pm
More than a century after it was first seen, the Assam keelback — a snake species endemic to the region — was rediscovered in 2018 by a team from Dehradun-based Wildlife Institute of India (WII) near a reserve forest on the Assam-Arunachal Pradesh border. A look at or the Herpetoreas pealii, its uniqueness, and its journey from being near-lost to rediscovered.
When was the snake first seen?
It was discovered 129 years ago by Samuel Edward Peal, a British tea planter based in Upper Assam. The planter collected two specimens of the small brown snake, non-venomous, from the evergreen forests that made up what is now Assam's Sivasagar district, and deposited them in the museum.
"In 1891, William Lutley Sclater, a British zoologist, formally recorded the snake as a new species in a half-page description and named it after the collector (Edward Peal) and commonly after the place where it was found," said Abhijit Das, the scientist with WII, who was part of the team that rediscovered the species.
The two specimens were kept in the Zoological Survey of India (ZSI), Kolkata, and the Natural History Museum, London. "The species has never been reported since then — nobody knew where it lived, how it looked, and everyone considered it a lost species," said Das.
How was it rediscovered?
In 2018, five scientists from WII retraced the route of the Abor Expedition — a punitive expedition in the North-Eastern Frontier Agency (which corresponds to parts of present-day Assam and Arunachal Pradesh) from October 1911 to April 1912. "As much as it was a military expedition, it was a zoological and botanical expedition," said Das, "The biologists on board at the time discovered a variety of species."
In September 2018, Das was among the five scientists who undertook the one-month-long expedition along the same route. "And we just happened to find this harmless snake while we were surveying the Poba Reserve Forest (RF) located at the interstate boundary of Assam and Arunachal Pradesh," said Das, adding Poba RF is a contiguous forest falling both in Assam and Arunachal Pradesh. "The snake was collected from the Arunachal part of Poba," he said.
Also Explained: Anthropause, the period UK researchers are set to study
Subsequently, Das collaborated with the Natural History Museum, London to establish and identify it. "The specimen kept in ZSI Kolkata was destroyed so we could not gather any data from it," he said. The rediscovery of the Assam keelback was published in international journal Vertebrate Zoology on June 26, co-authored by Das, and David J. Gower and V. Deepak of the Natural History Museum, London.
Why was it considered 'lost' for so many years?
As per Das, the snake's 'lost' status has a lot to do with the habitat it occupies — in this case, a lowland evergreen forest. "These forests have been selectively degraded during the last 100 years: tea plantations have been made, selective logging has taken place, and many other activities such as oil exploration and coal mining," said Das, "Most of the habitat has already disappeared. And in that case, there is hardly any scope to do research activity." Das said there is another snake — Stoliczkia khasiensis, or the Khasi Earth Snake — which was discovered in Meghalaya's Khasi Hills 150 years ago, but has not been seen after that.
Guwahati-based herpetologist Jayaditya Purkayastha said one should not be quick to classify such species as extinct. "We must remember that snakes, frogs and other reptiles are cryptic creatures, which basically means that they are not as easy to spot compared to say, a tiger," he said, "A tiger will be more apparent because of its sheer size but you might pass by the area, and not spot the snake hiding in the busy, unless you have specifically come looking for it." He added that the lack of surveys, especially in the herpetological field, was a contributory factor. "Very few people are doing work on it but that does not mean that the species is 'extinct' — it may just be because a fund for a dedicated survey on it has not been sanctioned."