MechWarrior 5 Mercenaries arrive sur Xbox Series et Xbox One, la sortie du DLC reportée
News jeu MechWarrior 5 Mercenaries arrive sur Xbox Series et Xbox One, la sortie du DLC reportée Jusqu'ici réservé à l'Epic Games Store et au Microsoft Store PC, MechWarrior 5 Mercenaries va déployer ses BattleMechs sur Xbox Series, Xbox One, Steam et GOG au printemps 2021. Le DLC Heroes of the Inner Sphere arrivera au même moment. Ce DLC et la sortie sur Steam / GOG étaient d'abord prévues pour le 10 décembre, une date occupée par Cyberpunk 2077 depuis le report de ce dernier. "Tout développeur veut que ses jeux reçoivent autant d'attention que possible, et évidemment partager une date de sortie avec Cyberpunk était moins qu'optimal. Les ventes du premier jour sont tellement importantes pour réussir le lancement d'un produit, et nous pensons que le report de notre date de sortie permettra à MechWarrior 5 Mercenaries d'avoir l'opportunité et l'attention qu'il mérite", explique le studio Piranha Games dans cet article. Ce délai supplémentaire sera également mis à profit pour apporter des améliorations au jeu (interface, IA, personnalisation, contenu, campagne solo...). Hier, Piranha Games a annoncé avoir conlu un accord de rachat avec la firme Enad Global 7. Le studio disposera ainsi de ressources supplémentaires pour "faire passer (ses) jeux MechWarrior au niveau supérieur". Jouable jusqu'à quatre en coop, MechWarrior 5 : Mercenaries propose d'arpenter une galaxie noyée par des siècles de conflit pour accomplir des missions scénarisées et des contrats générés aléatoirement afin de faire prospérer une compagnie de mercenaires, dont il faut aussi gérer l'aspect recrutement et maintenance des BattleMechs. Le titre est actuellement disponible pour une quarantaine d'euros sur le Microsoft Store et l'Epic Games Store. Il est aussi dans le catalogue du Xbox Game Pass PC. Par Clementoss, Rédaction jeuxvideo.com MPTwitter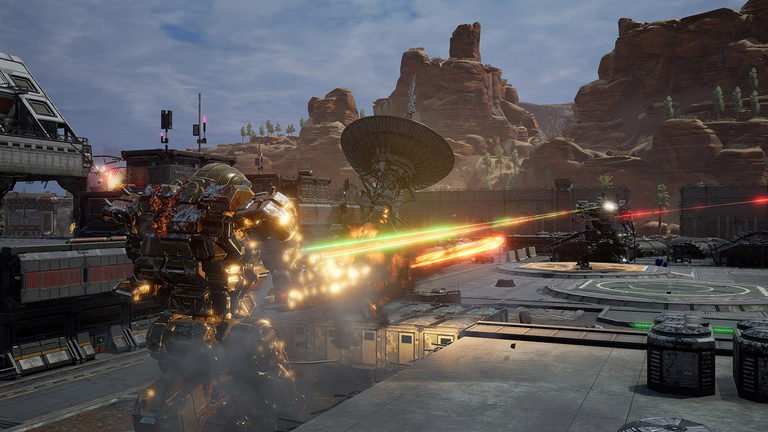 News jeu MechWarrior 5 Mercenaries arrive sur Xbox Series et Xbox One, la sortie du DLC reportée
Jusqu'ici réservé à l'Epic Games Store et au Microsoft Store PC, MechWarrior 5 Mercenaries va déployer ses BattleMechs sur Xbox Series, Xbox One, Steam et GOG au printemps 2021. Le DLC Heroes of the Inner Sphere arrivera au même moment.
Ce DLC et la sortie sur Steam / GOG étaient d'abord prévues pour le 10 décembre, une date occupée par Cyberpunk 2077 depuis le report de ce dernier. "Tout développeur veut que ses jeux reçoivent autant d'attention que possible, et évidemment partager une date de sortie avec Cyberpunk était moins qu'optimal. Les ventes du premier jour sont tellement importantes pour réussir le lancement d'un produit, et nous pensons que le report de notre date de sortie permettra à MechWarrior 5 Mercenaries d'avoir l'opportunité et l'attention qu'il mérite", explique le studio Piranha Games dans cet article. Ce délai supplémentaire sera également mis à profit pour apporter des améliorations au jeu (interface, IA, personnalisation, contenu, campagne solo...). Hier, Piranha Games a annoncé avoir conlu un accord de rachat avec la firme Enad Global 7. Le studio disposera ainsi de ressources supplémentaires pour "faire passer (ses) jeux MechWarrior au niveau supérieur".
Jouable jusqu'à quatre en coop, MechWarrior 5 : Mercenaries propose d'arpenter une galaxie noyée par des siècles de conflit pour accomplir des missions scénarisées et des contrats générés aléatoirement afin de faire prospérer une compagnie de mercenaires, dont il faut aussi gérer l'aspect recrutement et maintenance des BattleMechs. Le titre est actuellement disponible pour une quarantaine d'euros sur le Microsoft Store et l'Epic Games Store. Il est aussi dans le catalogue du Xbox Game Pass PC.

Par
Clementoss
, Rédaction jeuxvideo.com
MPTwitter